Better Dwelling published a very funny article about the Inflation. I liked it namely because of the last paragraph which I found extremely funny:
"The Inflation Is Temporary… But Persistent?
Got it. Inflation doesn't exist, but if it does it's just temporary… but there's no foreseeable end. I know, it sounds confusing. Yet, that's what he said during the Q&A.. "… we do expect that these effects will be temporary even if they are somewhat persistent," said Yoda. I mean, Governor Macklem."
The National Bank of Canada said, it looks like stagflation. "Since August, a few things we've seen. The disruption to the supply chain and shipping bottlenecks — they're continuing and they could be more persistent than we previously thought," said the governor.
You can have a look at the whole article at https://betterdwelling.com/inflation-is-more-complicated-than-thought-recovery-may-be-delayed-bank-of-canada/.
We are living in absolutely ridiculous times. From latest Ozzy Jurock "Oz Buzz #63" I could not believe the reality what current government achieved, Canada created during latest COVID scare the biggest debt of all G7 countries:
Unfortunately there are very serious signs that we are really heading to the worst case scenario and that is a STAGFLATION.
If you are interested into more data, I like namely article by Lance Roberts from Real Investment Advice PRO Investors Starting To Realize 'Stagflation' Is A Problem
from which I picked for you following graphs and couple texts:
However, the question is whether the current inflationary spike is transient or persistent?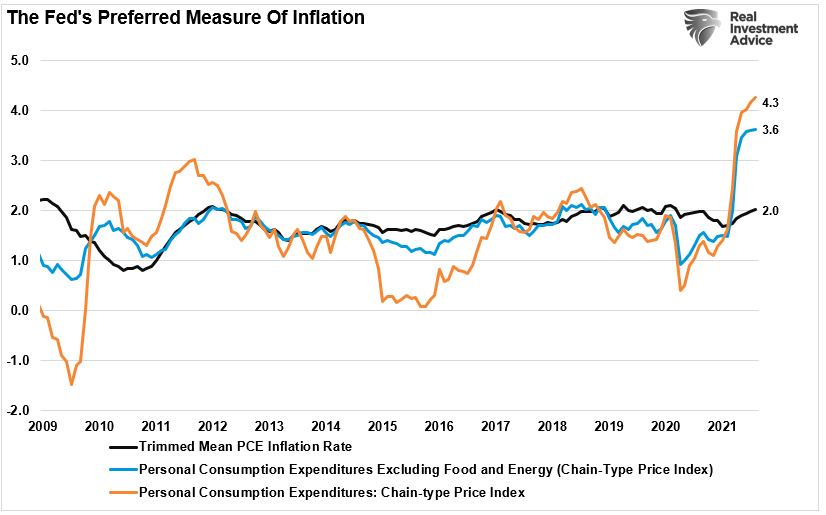 There are two problems surfacing that suggest inflation may be less transient than previously believed.
The supply chain disruptions are not resolving themselves, but worsening
Incomes are not keeping up with inflation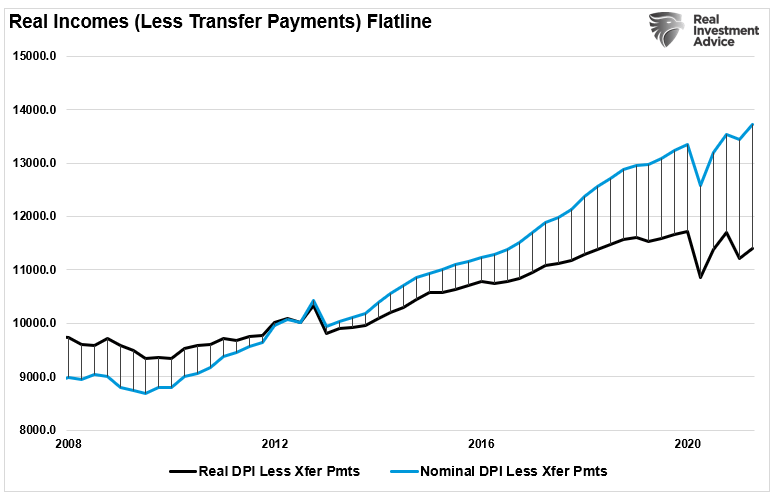 Furthermore, as noted in the definition of "stagflation" above, employment is not recovering to a level to support an economy devoid of fiscal stimulus. As shown below, the gap between the stimulus-driven PCE (Personal Consumption Expenditures) and the jobs to keep consumption at those levels is significant.
Only time will tell, but honestly we are now in incredible mess, if all this ends up well, I will be very happy puppy.
I have had a fantastic summer, work wise. I did not have time to have even remotely "balanced life". I was working absolutely crazy. I did not have time for even bloging which I really like. But there is a good news: I will probably send you the next "Monthly Newsletter" from Hawaii! Yes, time to get out for a 14 days swim, hike, play golf ...and work there.
I absolutely love my job, finally I am selling/buying product which is very dear to all my clients and I love to work with those who do not mind to work with somebody who has foreign accent while his heart is already deeply rooted in Canada! ENJOY THE RIDE, no matter which stage of life you are in, please do not let the stupid polarization steel life from you! Life is too short. See you soon.